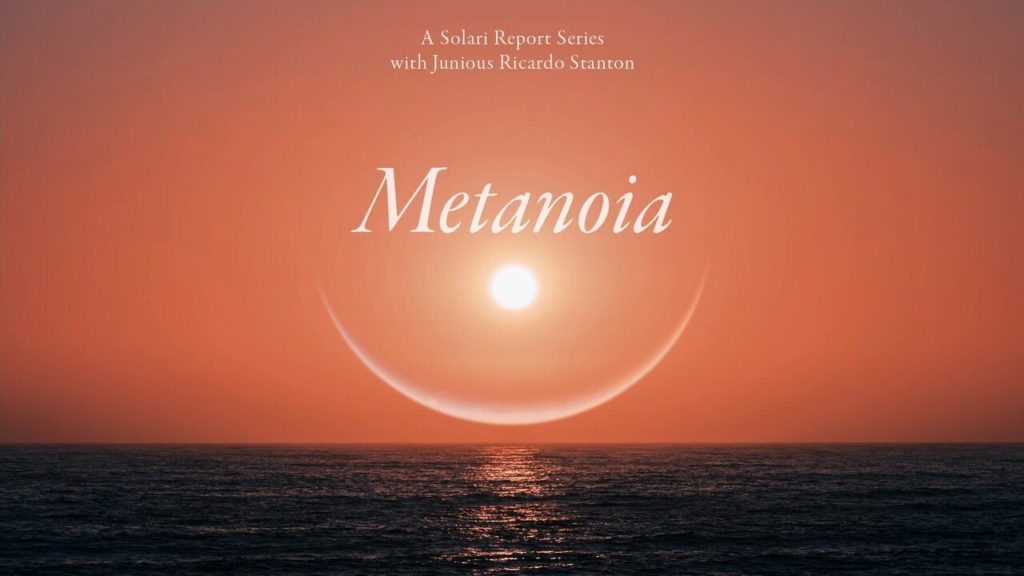 "Love is the will to extend one's self for the purpose of nurturing one's own or another's spiritual growth… Love is as love does. Love is an act of will — namely, both an intention and an action. Will also implies choice. We do not have to love. We choose to love." ~ Scott Peck
We live in a challenging time. While it may seem difficult to have an impact on an extremely complex world, it is possible to change ourselves, which affects the whole, the world.
Metanoia, from the Ancient Greek word meaning "changing one's mind" or "going beyond limited thinking or stultifying group thinking", is about personal transformation. How do we change? And why would we change? The Metanoia Series is meant to encourage your personal growth and power.
Metanoia is the creation of Junious Ricardo Stanton. Junious will feature inspiring guests and ideas in order to foster change in ourselves so we can build a better world. Junious, who has been a guest on the Solari Report many times, is unique in his ability to inspire me and those who listen to him to improve and extend themselves. I am thrilled he will contribute to the Solari Report on a regular basis.
Optimum Health as Resistance and Revolution with Keidi Obi Awadu – September 27, 2023
We know we are being targeted by diabolical plutocrats who want to alter the natural order, including humans. We have seen their internal documents calling for massive reductions in the human population and the various means they plan to use to achieve their goals, including Frankenfoods, geoengineering of the environment, ecocide, vaccines, poisoning the air and water, as well as plans for human "augmentation," DNA-engineered "designer babies," melding us with machines, and crossbreeding us with animals.
What can we do? We can resist. The best way to resist is to take control of our personal health, guard and strengthen our minds, and cultivate a healthy, vibrant, energetic, and proactive lifestyle. Our returning guest, Keidi Obi Awadu, is a health consultant, master chef, prodigious researcher, and prolific media content producer. Keidi will share strategies and ways to thwart the globalists' attempts to destroy our health by cultivating right attitudes about health, nutritious food, and mental acuity.
Leadership with Junious Ricardo Stanton – June 6, 2023
While in Pennsylvania in April, I had the opportunity to record an in-person conversation with Junious Ricardo Stanton, a long-time ally and, since mid-2021, host of Solari's Metanoia Series.
Junious modestly describes himself as a "catalyst" and educator, but he has demonstrated very powerful personal leadership skills since I first met him 25 years ago. I wanted to talk with him about leadership—how he became a leader and how he keeps walking his talk. Even before we launched the Metanoia Series, Junious had made several appearances on the Solari Report—in interviews popular with subscribers—to discuss leadership-relevant topics like "divide and conquer," propaganda, and inner-city corruption.
Every week in our Hero of the Week feature, the Solari Report highlights examples of leaders—high-integrity change agents who rarely make it into an "old media" that dishonorably pumps up fake unethical leaders instead. Join Junious and I as we discuss the qualities of meaningful leadership—ranging from maintaining optimism to listening to striving to be helpful. In a high-friction environment, a personal dedication to this type of leadership has never been more important.
Keeping Love Alive with Na'im Muslim – March 28, 2023
Na'im Muslim is a counselor, social activist, community organizer, transformation facilitator, and program creator who started a program to promote parental engagement and responsibility in Camden, New Jersey. As he worked to stem violence in the city, he formulated a campaign to encourage fathers to become more active and engaged in the lives of their sons and daughters. He founded a fatherhood initiative entitled "Fathers Go Get Your Sons," which subsequently branched out to encompass daughters, "Don't Forget Your Daughters."
From Na'im's perspective, Love is the answer. Na'im exhorts us to consciously "Keep Love Present" by making Love our focal point. Na'im works with schools and community groups, offering workshops and sessions as reminders to "Keep Love Present" by learning to love ourselves, honor who we are, and begin the work to transform our lives and personal spaces using Love as the catalyst. In this episode of the Metanoia Series, Na'im shares his insights on personal transformation and how to Keep Love Present
Environmental Justice with Jerome Shabazz – October 5, 2022
In 1998 Jerome and Gloria Shabazz founded Juveniles Active in Science and Technology Development Services Inc. Out of that initiative came the Overbrook Environmental and Education Center. The OEEC is a community based center dedicated to environmental education, conservation, public health, personal enrichment, environmental justice and sustainability. The OEEC is a staunch advocate for and has in house programs dedicated to: environmental justice, sustainability and food literacy designed to improve nutrition, promote healthy eating and wellness and environmental equity and justice. Jerome and OEEC are at the intersection of activism, civic engagement, environmental awareness and personal and community empowerment. OEEC partners with local colleges and university as well as engaging with elected officials and government agencies to push for cooperative change in West Philadelphia.
Astara, a Modern Mystery School, with Rev. John Gregory Toews – May 12, 2022
The ancient Mystery Schools traditions still exist. There are organizations carrying on their legacy of raising consciousness, encouraging enlightenment, and helping truth-seekers find themselves and discern their true purpose and mission in life.
On the Metanoia Series this week, we introduce you to Astara, a modern Mystery School that offers time-honored teachings and techniques for inner peace, enlightenment, healing, and harmony. Founded in 1951, Astara seeks to "bridge the gap between contemporary Eastern and Western spiritual philosophies, presenting their mysteries in a clear context with the wisdom of ancient spiritual truths."
Join me as I converse with Rev. John Gregory Toews, the CEO and Head Minister of Astara, as he shares what his organization has to offer.
Introduction to New Thought with Rev. Twana Malone – February 3, 2022
This coming week for the Metanoia Series, I have the pleasure to explore with my guest, Reverend Twana Malone, another way to create healthy, vibrant, and fulfilling lives by recognizing the creative power within us, using New Thought.
What is New Thought? It is not a new philosophy, but a new way of approaching life using ancient techniques to achieve our goals. Tune in to Metanoia to learn how New Thought, metaphysics, and expanded consciousness can help us thrive even in challenging times. Rev. Twana Malone is Senior Minister of the Center for Peace, Center for Spiritual Living, and has been a student of New Thought for more than 20 years.
Diagnosing the U.S. Healthcare System with Glenn Ellis – December 9, 2021
The American healthcare system has become dysfunctional. No longer abiding by the guiding principles of the Hippocratic Oath, the system prioritizes profits over people, and seems to be controlled by people who no longer care about our wellbeing or health.
Our guest for this edition of Metanoia is Glenn Ellis, a health and wellness educator, author, columnist, and lecturer focusing on health equity and ethics with a global perspective. He is a Certified Health Care Ethicist (CHCE) from the Institute of Clinical Bioethics at Saint Joseph's University in Philadelphia, PA and has a Master of Public Health (MPH) degree from the University of Liverpool. His goal is to empower us with information about the healthcare system, medicine, and our own health and wellbeing. It is my great honor to present Glenn Ellis to the Solari Report subscribers.
Energy Healing with Debra Branda-Canady – September 30, 2021
The Metanoia Series focuses on personal transformation, growth, and self-actualization. In this interview, I speak with Debra Branda-Canady, an entrepreneur, mystic, and Reiki Master. She shares her journey from organized religion to ancient earth-based spirituality, discussing how she was introduced to energy healing and how she learned to embrace the subtle forces around us.
Please join us as we explore the process of personal expansion and the deeper potentialities available to us.
Superfoods and Wellness with Chef Keidi Obi Awadu – July 29, 2021
Welcome to the new Solari Series—Metanoia—in which we talk about change: changing one's mind, going beyond limited thinking and behavior, and achieving personal transformation in a holistic way. The goal is to encourage personal growth, transformation through mental transmutation, and empowerment by featuring interesting personalities with intriguing and inspiring ideas.
My first guest is Keidi Obi Awadu, a Renaissance man, artist, deep and thorough researcher, author, Internet pioneer, biofuturist, chef, and holistic health and nutrition expert.
Food has always been an important part of life for Keidi Awadu. As a chef, he believes that food is Nature's perfect medicine, and a key part of any transformation. Through his Living Superfood Full-Spectrum Hyper-Nutrition healing system, he has been offering time-honored, practical, and natural solutions to help people regain their health and vitality as part of a holistic transformation.
In our conversation, we talk about the seven principles of health: Breath, Hydration, Nutrition, Sleep, Detox, Exercise, and Mind-Body-Spirit Matrix. We also discuss inflammation, which is the cause of so many acute and chronic diseases, and how to reduce it. And last but not least, we talk about how to change bad habits.